The REALIST (Reliability, Availability, Logistics and Inventory Simulation Tool) program package enables a realistic modeling, simulation and analysis of modern technical systems using high-level Petri nets. The use of the tool helps users to perform a complete analysis of their systems, including all aspects related to operation. For instance, the system image can be used to plan and optimize necessary maintenance measures and capacities. This leads to increased availability and productivity as well as cost reductions.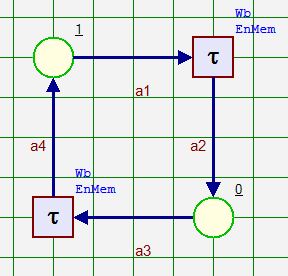 Functional scope
The REALIST program package consists of two application tools: the REALIST-Editor and the REALIST-Simulation program part.
The REALIST-Editor enables the establishment of a system model using high-level Petri nets. The system of interest can be graphically modelled with extended stochastic Petri nets (ESPN), extended colored stochastic Petri nets (ECSPN) or as a conjoint system model (CSM). REALIST-Simulation performs the subsequent system analysis using Monte Carlo simulation.
Both program parts offer an intuitive graphical user interface for simple and application-oriented use. The REALIST program package is availability in both German and English.
Modeling capability
Within the modeling capability of REALIST using extended stochastic Petri nets (ESPN), extended colored stochastic Petri nets (ECSPN) or conjoint system models (CSM), many aspects of a modern technical system can be captured.
Selected features of REALIST-program package are:
The comprehensive modeling possibility of REALIST allows a close-to-reality description of the system without restrictions. In addition to system aspects, information about operation and external resources as well as aspects on component, maintenance and cost level can be taken into account.
The system models can be analyzed using an optimized Monte Carlo simulation. In this way, operational parameters such as reliability, availability, maintainability and costs can be determined and requirements of specifications can be demonstrated. Maintenance strategies can be optimized with regard to costs and productivity. This forms the basis for a sustainable increase of availability and a cost reduction.
The functional scope of the REALIST program package is continuously developed and expanded on the basis of the latest research results.
Range of application
The main application of REALIST program package is the analysis of complex technical systems. This results in a wide range of applications:
Automotive and Mechanical Engineering
Machine Tool or Facility Engineering
Production
Logistics
Power Engineering
Aerospace Engineering
Due to the increasing complexity of systems and the increasing demands on availability and productivity, there is a need for an optimal system image. This enables systems and processes to be analyzed, their behavior to be predicted and requirements to be demonstrated. The analysis results are the necessary basis for the improvement of internal and external processes and the design of the systems. Production and maintenance processes can be planned and optimized.
References
The REALIST program package is used in current research and industrial projects. Selected partners:
Festo AG & Co. KG
VDW (German Machine Tool Builders' Association)
Graduate School of Excellence advanced Manufacturing Engineering (GSaME)
Additionally, the REALIST program package is used in teaching in basic and specialist studies (Bachelor, Master) at the University of Stuttgart as well as at selected universities in Germany and abroad.
Further information & contact
Martin Dazer
Dr.-Ing.
Head of Reliability &Head of Drive Technology Department